Palomino Fino from Pago Carrascal, Uva Rey from Arcos and Chiclana, Perruno from Trebujena. The different soils all consist of different types of Albariza. The harvest takes place at the end of September. Picked by hand. The grapes come from the innermost bunches. The bunches are not destemmed. Fermentation takes place in old 500 litre botas without temperature control - i.e. the principle of natural wine. The wine is then aged for a further 26 months in the same botas, the last four of which under flor. The wine is not fortified and the bottling is carried out with very limited filtration.
In the nose, this Cortado has the aromas of a lightly oxidised Fino. Light tones of soft ripe fruit, straw, salty lime (from flor). In the mouth: a dry saline structure with overripe fruit tints and the impression of a very tiny bit of residual sugar. The fresh minerality ensures a nice balance.
Specifications
Serving temperature
10-12°C
About the bodega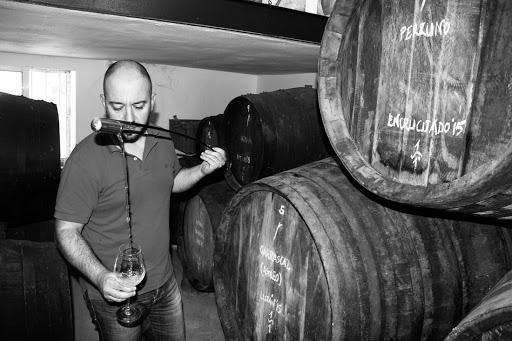 Cota 45
Cota 45 is the life's work of Ramiro Ibañez, one of the most talented and reputed winemakers of the Jerez region. His aim: restore traditions and allow terroir to express itself to the fullest. Ramiro was born and bred...